Ebi Ten Japanese Fast Food (388 Robson Street, Vancouver, BC, Canada, phone: 604-689-9938) is a small, bright and efficient fast-food restaurant across from the Vancouver Main Library downtown and the Vancouver Westin Grand hotel.
At Ebi Ten you'll find prepared California rolls and other sushi at really reasonable prices (in the $2 to $3 range), and if you're in the mood for something fancier they will also make sushi on order. Another great choice is the Chicken Teriyaki bowl (pictured below, $5.94 before tax), which is served with either miso soup or a soft drink.
djj_rome writes on DineHere.ca:
It's cheap, it's fast and its run by Japanese students. Food here is really cheap and for $10 you can fill up on a great meal for lunch or dinner. Also a great place to get a snack before the Canucks game. I always stop here when in the area and wanting a quick meal.
The restaurant usually bustles with energy during lunch hour, but never fear, the line-up will move quickly!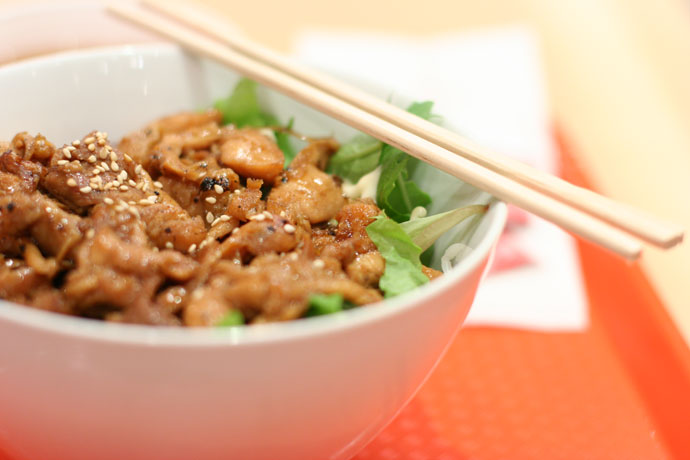 Chicken teriyaki bowl served on rice with lettuce and Japanese mayo ($5.94 before tax)