Taste of India Restaurant is a fast food restaurant located in the Tinseltown Food Court at International Village mall (view map, address: 88 W Pender, Vancouver, BC, Canada, phone: 604-806-0799) on the edge of downtown Vancouver.
The mall is really close to GM Place Stadium and BC Place Stadium, as well as the Stadium skytrain station, and it's a convenient place to stop for a bite to eat before the Canucks hockey game or BC Lions Football.
The food court at Tinseltown mall is on the level below the movie theatres. Taste of India Restaurant provides a healthy and delicious alternative to the other fast food outlets such as Taco Time and Vana Vietnamese.
At Taste of India they make their Naan bread fresh to order – I was really surprised: it only takes about a minute for them to roll the dough and bake it, and it tasted awesome! Pictured below are two different orders of Combo 2, which includes two items of your choice from their menu with rice and Naan bread for $6.25. Some vegetarian items are available.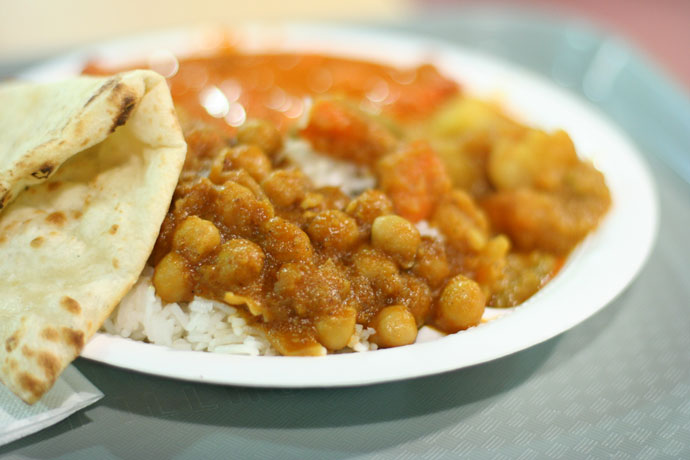 Indian food with freshly made naan bread ($6.25)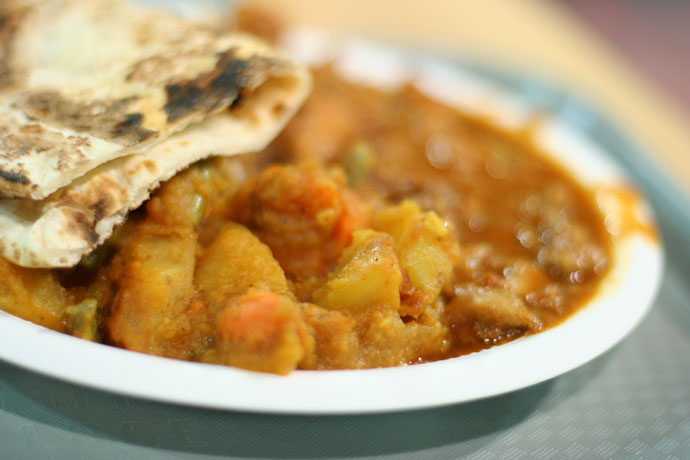 Indian mixed vegetables, Curry Chicken, and Naan bread ($6.25)