Rosie's on Robson (298 Robson Street, Vancouver, BC, Canada, phone: 604-689-4499) is a comfortable British-style pub/restaurant located in the heart of Vancouver's downtown entertainment district, close to GM Place Stadium, BC Place Stadium, and the Queen Elizabeth Theatre. Daily specials include comfort food such as steak and ale pie, honey glazed pork chops ($14.95, pictured below), and the fried chicken sandwich. They also serve a very delicious Yorkshire Pudding that is stuffed with roast beef and mashed potatoes.
sam_w_bc writes on Dinehere.ca (click here for review link):
I've been here a few times before. The most recent time, I took my parents. I ordered the Yorkshire pudding with roast beef and my parents had the salmon and beef stew. We all agreed that our food was delicious. I want to go back and have more Yorkshire pudding.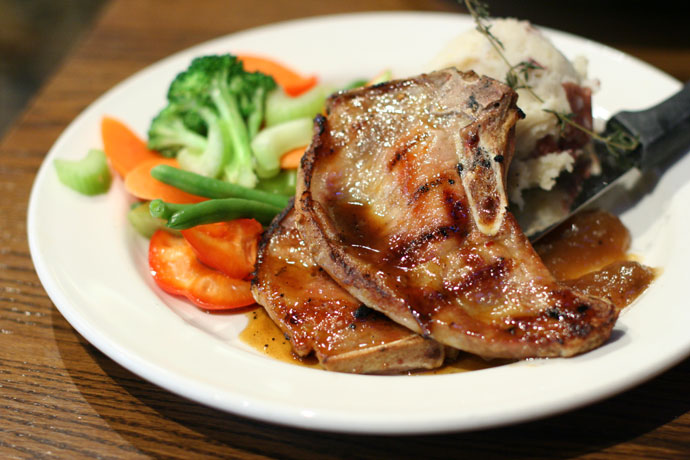 Honey glazed pork chops, served with vegetables and mashed potatoes ($14.95)