Taking the ferry over to Victoria is a popular day trip for tourists to Vancouver. And for some people, a ride on BC Ferries is inevitable, whether it is to attend school at UVic, visit family, or simply return home. In my case I was going over for a vacation, which also involved performing in a piano concert (click here for free recording of my performance in the concert).
Naturally, during the 1.5 hour ferry trip, I got hungry. There are several food options available on BC Ferries, one of which is the Pacific Buffet, which BC Ferries describes as offering "elegant ocean-view dining on sailings from Vancouver to Victoria and features a wide selection of hot and cold items". The buffet costs $16 to $21 depending on the time of day.
The line up for the buffet seemed long, so I headed over to the main cafeteria, which is branded as "White Spot", a popular chain restaurant with several locations in Vancouver. The ocean-going version of White Spot has a simpler menu, but still has some attractive choices, such as the Roast Chicken with fries or Caesar salad, various burgers, salads, or their signature entree, the baked maple-glazed salmon ($11.99, pictured below).
The salmon was surprisingly good, and unlike some restaurants where the actual product looks a lot different from the picture in the menu, my salmon looked very similar to the enticing poster-sized photograph at the cafeteria entrance. My only problem was that I was really hungry, and I could have easily eaten two orders of scrumptious salmon. Maybe next time I'll try the Pacific Buffet!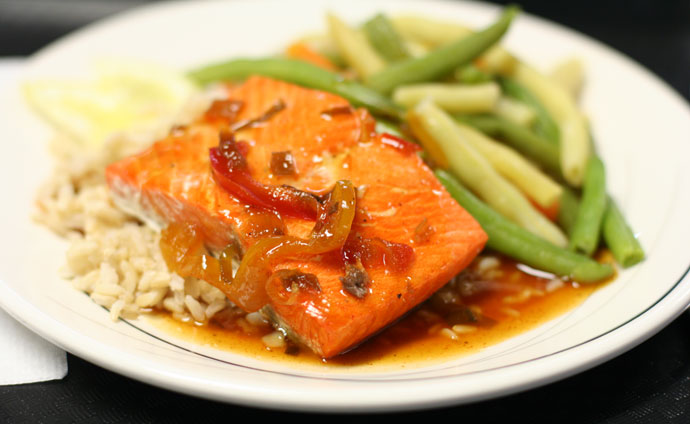 (above) BC Ferries Salmon Entree ($11.99)