Sushi Town (visitor reviews, 5935 East Hastings, Burnaby, BC, phone 604-294-6155) has got to be one of my all time favorite Japanese restaurants. It's run by a young Korean chef who takes his food seriously, and the quality, portion size and freshness of the seafood are outstanding considering the modest prices.
The Ebi Sunomono salad (pictured below, $3.50) is cool and refreshing; thin noodles are served cold in a clear sweet-and-sour broth topped with fresh cooked shrimp and a garnish of lemon. The various maki rolls are delicious, such as the Futomaki (half order, $4.00), chopped scallop roll ($3.75, pictured below), and the "Awesome Roll".
Regarding the Awesome roll (pictured below), frugalgourmet writes on Dinehere.ca:
"The roll is slightly baked and served warm, topped off with a delightful combination of green onions, bonito flakes, barbeque sauce and spicy mayonnaise. It provides some great flavor and texture contrasts (crunchy/soft; sweet/salty; piquant/creamy). A meal on it's own – 8 generous pieces for $6.95."
The Chicken Karage (deep fried chicken wings, $3.95) were also very tasty – what juicy and tender chicken!
As the restaurant is located in Burnaby, it is a bit of a trek from downtown Vancouver (about a 30 minute drive). However, Sushi Town doesn't seem to have trouble attracting diners to its suburban location; it was fully packed on the Saturday evening with several large families and smaller groups too.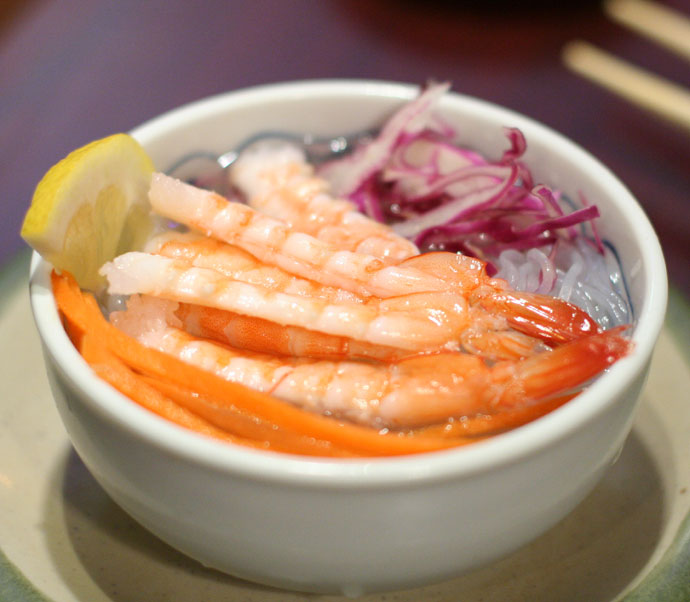 Ebi Sunomono salad (shrimp and cold noodles in a sweet and sour broth)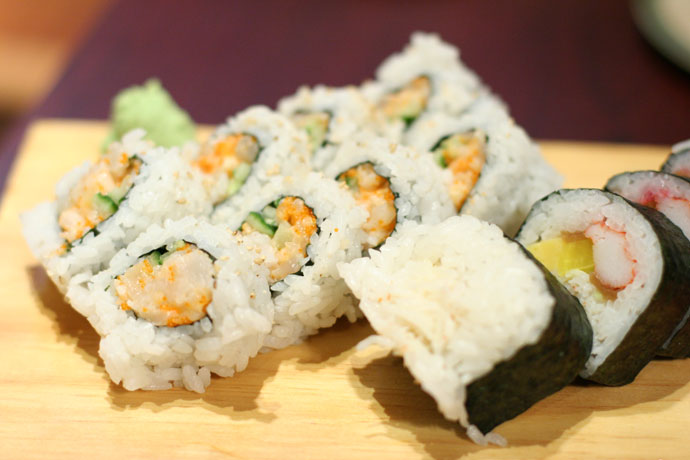 Futomaki and chopped scallop roll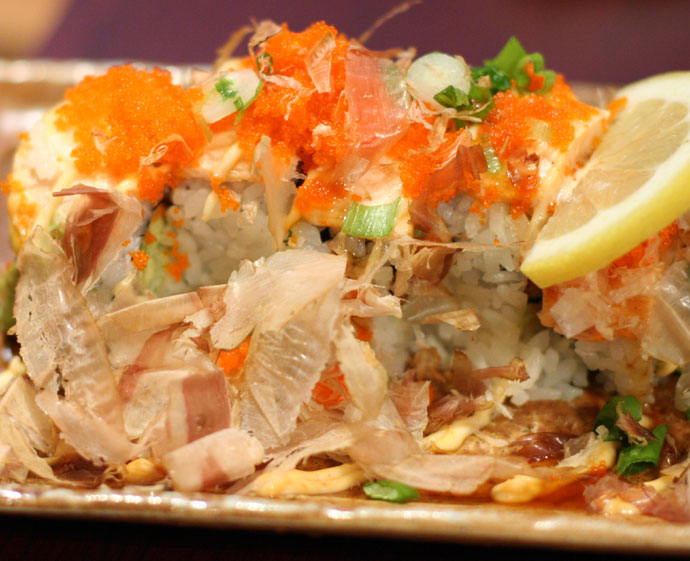 The signature dish, of Sushi Town: "Awesome roll"