The Foundation (2301 Main, Vancouver, BC, Canada, phone: 604-708-0881) is a funky vegetarian restaurant with retro decor and a liberal, activist vibe. Popular dishes include the nachos, salads, and pasta. Pictured below is my Mango Forte pasta ($9.75) which was an inventive dish that combined rotini pasta with a sweet dressing, fresh stir-fried vegetables, mango, and spinach salad, sprinkled with fresh Parmesan cheese.
Many people discuss The Foundation on DineHere.ca (click here for review link). Bexby Jones, a reviewer, writes:
It's not really a place to bring a date (unless your date is an outdoorsy vegan hippy/ skateboarder musician type) and I probably wouldn't go here for business dinners. But it's great for friends/ boyfriends/ girlfriends, no matter who you are. The food is definitely comfort food. The rice/ quinoa dishes are rich and saucy with nuts and raisins and things in them. They kind of remind me of stuff my vegetarian hippy mom would make me (if I had one). The salads are tasty. My favourite dish by far is the nachos. For just $8 you get a platter of nachos with corn and beans, and amazing salsa/sour cream, that can fill two people. At night it's a great place to come for candlelight & wine. They're open late, too. Sun-Thurs till 1am and Fri/Sat till 2am (but they stop serving drinks at 1am).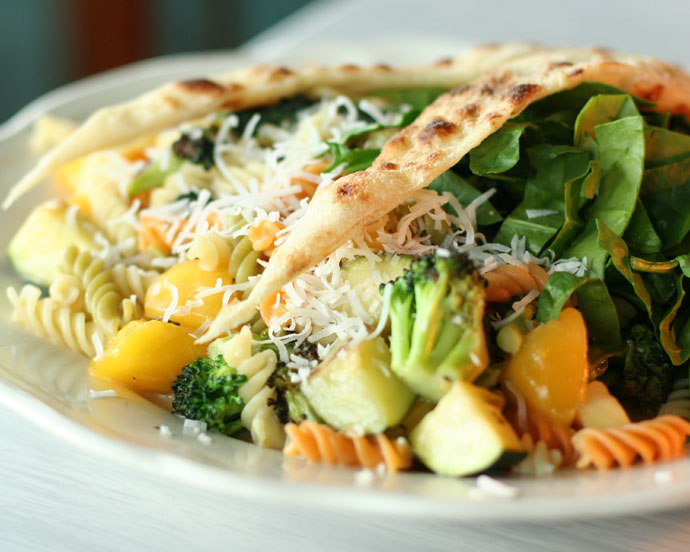 Mango Forte pasta ($9.75)