Kuroshio Sushi Express (map, 1011 Granville Street, Vancouver, BC, Canada, phone: 604-623-3388) is a take-out sushi restaurant in the Granville Street night-club and entertainment district, near the corner of Granville and Nelson Street downtown.
Their best deal is a huge sushi "burrito" ($1.88 plus tax, various kinds), which is a sushi roll that is not cut into pieces. Click here for a picture of the Sushi Burrito.
Pictured below is the Teriyaki Chicken Roll ($3.75) and the Veggie Roll (avocado, cucumber, lettuce, carrot, diakon radish, and inari, $3.00) which were both delicious. The restaurant also prepares large sushi party trays for $25 on special order – be sure to call them a day in advance if you're ordering the party tray. The restaurant is open late every day, from 12pm to 3am on weekdays and from 5pm to 3am on Saturday and Sunday. For more info please view Part 2 and Part 1.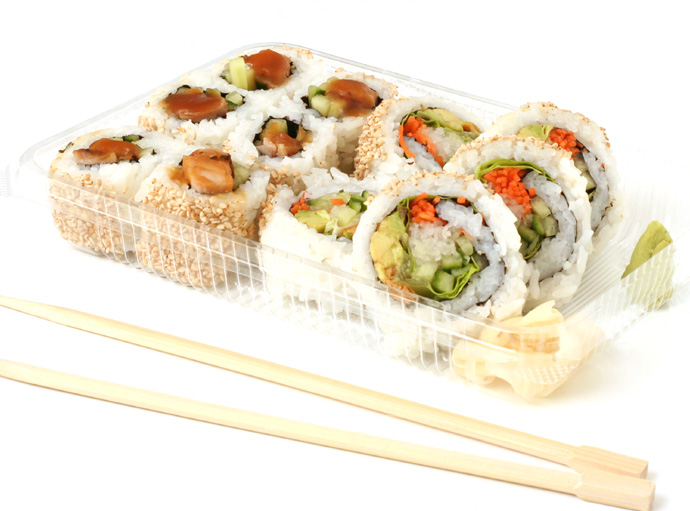 Teriyaki Chicken roll sushi ($3.75) and Vegetarian Sushi ($3.00)