The Naam (web site, 2724 W. 4th Ave. Vancouver BC Canada, phone: 604-738-7151) is a full service vegetarian restaurant that is open 24 hours and is popular for inventive organic and natural foods dishes. The Naam has won the "Best Vegetarian Restaurant" award for the last ten years in the Georgia Straight Magazine's Golden Plate Awards (Reader's Choice).
The Naam serves breakfast from 6am until 11:30 am on weekdays (and until 1:00pm on Saturday and 2:00pm on Sunday). I enjoyed the "Naam Special Breakfast" (pictured below, $9.50) which is two eggs any style, two whole wheat pancakes, veggie sausages or "Sam's strips" (a kind of veggie patty) and home made potato fries. Yum!
For lunch and dinner, the restaurant serves tasty creations such as enchiladas, burritos, burger platters, curry, rice bowls, and wok dishes.
The Naam also features live music (mostly folk, jazz, and blues) from 7pm to 10pm every evening. Check out their web site for the upcoming schedule.
Video from the Naam: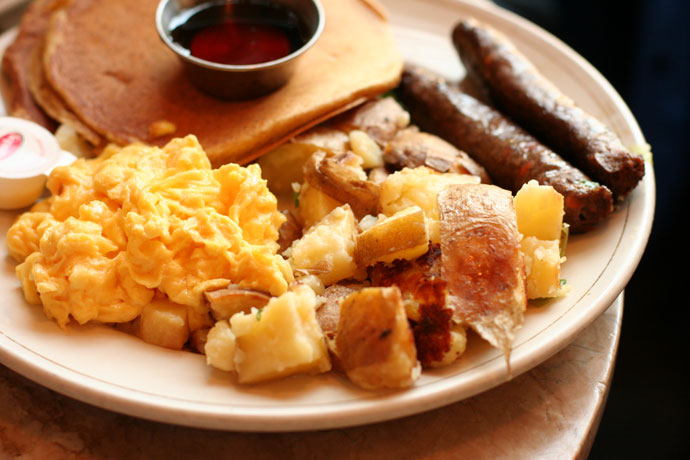 "Naam Special Breakfast" ($9.50) – two free range eggs any style (pictured above, scrambled), two whole wheat pancakes and syrup, veggie sausages, and home made potato fries (which were very delicious, and totally not greasy!)