Beatty Street Bar and Grill (765 Beatty Street, Vancouver, BC, Canada, phone: 604-688-3504) is one of my coworkers' favorite lunch spots for Friday afternoons, and it's also a great place to grab a beer or some food before (or after) a BC Lions football game at BC Place Stadium or a Canucks hockey game at GM Place. This restaurant / bar is located very close to both stadiums, and is decorated with sports memorabilia. The many TV's tuned to the sports channels make it easy to keep an eye on the current games.
The Beatty Street food menu is fairly basic, but quite well executed, with daily specials such as Fish and Chips on Fridays, a soup and sandwich special, burgers, pastas, and the usual appies. Prices for lunch are in the $10 to $15 range, which are quite reasonable considering the downtown location. I especially enjoy their pastas, such as the Chicken Pesto Pasta ($13.99, click here for photo), and the Prawn Linguini ($14.99, pictured below). The Prawn and Mussel Linguini was prepared in a simple way, with a basic tomato sauce, lots of yummy cheese, several prawns that were hidden throughout the pasta, and some mussels which I quickly devoured. My only suggestion for this dish would be to add even more prawns, but I was quite satisfied regardless.
This restaurant is located in the Georgian Court Hotel, a popular downtown Vancouver hotel for tourists and business travelers alike. For some more photos of the Beatty Street Bar and Grill please view Part 1.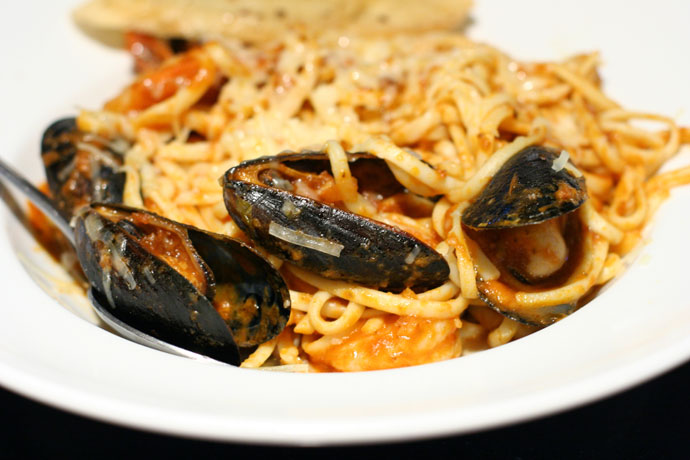 (above) Prawn Linguini pasta at Beatty Street Bar and Grill ($14.99)