Radha Yoga and Eatery (web site, 728 Main Street, Vancouver, BC, Canada, phone: 604-605-0011) is a yoga studio in Chinatown that offers high-quality, 100% vegan dining, from Thursday to Saturday.
Trentm writes on Dinehere.ca (read review):
Radha has a great atmosphere, with hardwood floors and exposed brick in a big, open space. The live folk music really added to the relaxing, calm feel of the place. It's also such a treat to go out for dinner on a friday night and not have to fight the crowds or feel rushed. The food was tasty and presented well…
Pictured below is the Nori Roll (Japanese Seaweed) appetizer, $7.00, which their menu describes as "raw sunflower-hempseed paté, julienne vegetables, sprouts and avocado in toasted nori with homemade pickled ginger and orange dragon dip". The orange dragon dip is a light soya sauce with a touch of orange juice. Also pictured below is one of their featured main courses for the summer, the Southern Style Tempeh ($13.00). Maple-barbecue glazed tempeh – like tofu but coarser – was served with cornbread, warm summer greens, and seasonal vegetables. It was delicious. My only wish was that there was more glaze / barbecue sauce to soak into the cornbread!
The Chinatown area of Vancouver (where Radha is located) is one of the more graphic neighborhoods, but is quite safe to visit.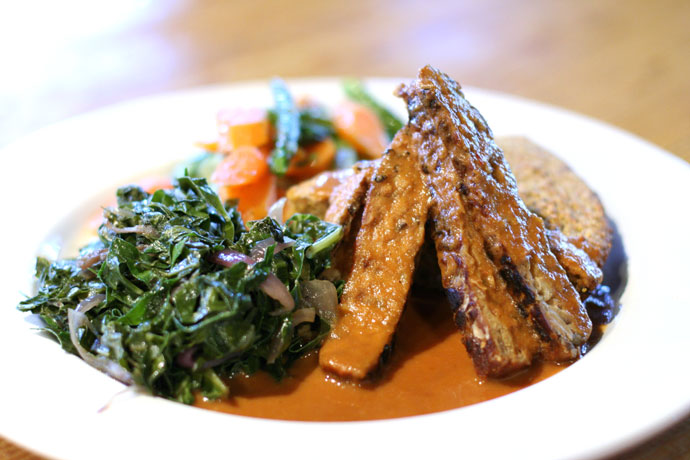 (above) Maple Barbecue Glazed Tempeh ($13) from Radha restaurant in Vancouver.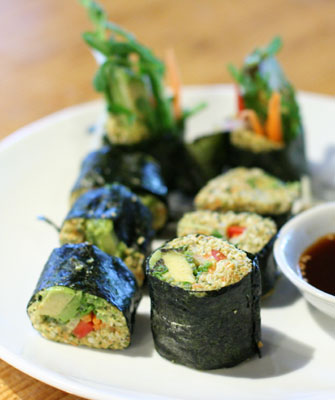 Raw Nori rolls at Radha restaurant ($7.00)