Wild Ginger (web page, map, reviews, 2015 – 88 West Pender Street, Vancouver, BC, Canada, phone: 604-893-8608) is a Korean – Chinese fusion restaurant in the International Village Mall, hidden away behind the Tinseltown Mall food court. To find this restaurant, go up to the food court level in Tinseltown / International Village mall and look across from the center escalators for the entrance to the restaurant in the middle of the food court. (The food court is one level below the popular Cinemark Tinseltown movie theatres.)
Wild Ginger has quite an extensive menu, with a range of Korean dishes (including Korean BBQ), Chinese food, and even some western-fusion dishes. The Beef Tenderloin (around $18, pictured below), was quite a treat – tender slices of beef were served atop potatoes and stir fried vegetables, with accompanying Chinese egg fried rice that was arranged quite artfully in the shape of a fish. The restaurant is quite large and could easily accommodate a large group (but please call ahead to make reservations so that they can be ready for you!). There is free parking in the mall (upon validation by the restaurant), and the restaurant is very close to the Stadium Skytrain station (Vancouver's subway).
One thing to note is that this restaurant doesn't have very many choices for vegetarians. My friend wasn't too impressed by his "vegetarian delight" ($11) which was more of a side dish. But for those who enjoy eating meat or seafood, Wild Ginger has plenty of enticing dinner selections. Check out their web site for the current menu. For another photo and more info please view Part 1.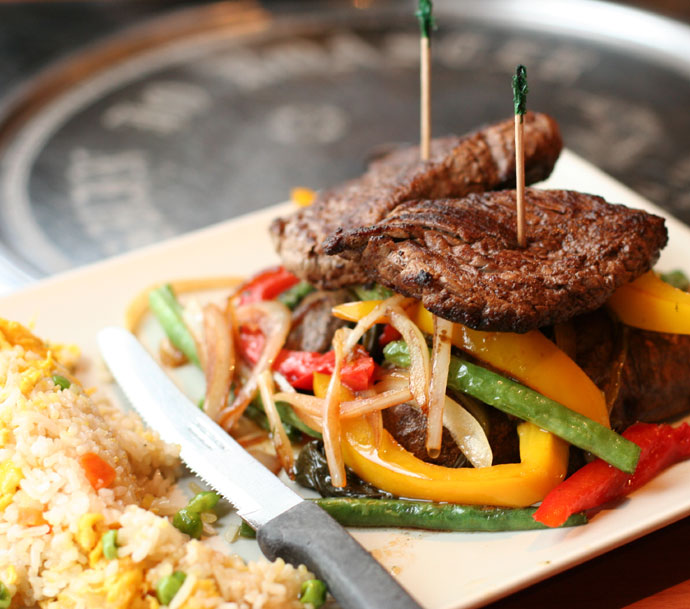 Beef Tenderloin at Wild Ginger (with egg fried rice, potatoes, and stir fried vegetables, around $18)