Section Three (web site, 1039 Mainland Street, Vancouver, BC, Canada, phone 604-684-2777) is a trendy, funky restaurant in Yaletown with eclectic decor and a tempting menu with Pacific Northwest fusion cuisine. The restaurant is open late and has live DJ's in the evening, as well as a popular patio in the summer.
I ordered the lunch special, a truly marvelous chorizo sausage wrap (pictured below) that was served with my choice of soup, salad, or fries for $7.95 (I picked the salad). The wrap was really good, much better than I expected, and I loved the combination of colorful ingredients that accompanied the sausage.
The restaurant is currently featuring a special menu for the Dine Out Vancouver event that runs until February 3, 2008 (view event website at Tourism Vancouver). Their Dine Out Vancouver menu is a complete three course meal that includes a soup or salad to start, a steak, chicken breast, or pasta as the main event, and fresh berries or chocolate cake for dessert, all for $25.00 (before tax, tip and drinks).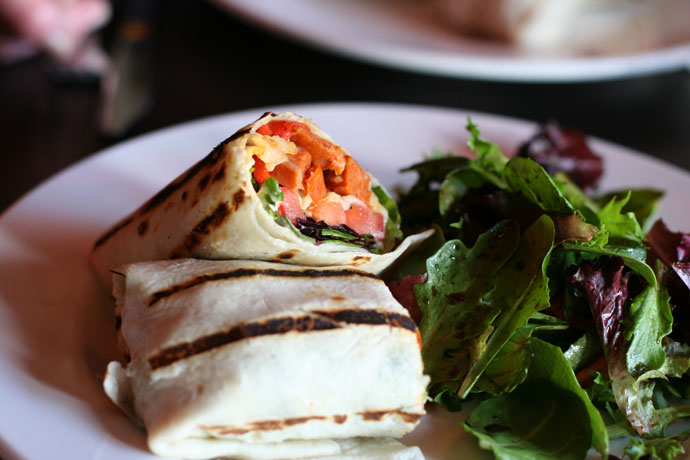 Chorizo sausage wrap served with salad for $7.95 (lunch special)Â