Amarcord Restaurant (visitor reviews, restaurant web site, 104 – 1168 Hamilton Street, Vancouver, BC, Canada, phone 604.681.6500) is an authentic Italian restaurant located in the upscale Yaletown district of downtown Vancouver. It has excellent service, outstanding traditional Italian dishes, and an unpretentious atmosphere. Mia Stainsby writes in the Vancouver Sun:
"Amarcord -Â a pleasant memory of good food, service and an Italian slice of life… The kitchen does gnocchi like nobody's business – not too dense, just pillowy right… The tournedos of beef in a red wine sauce revealed its excellent quality when it came under the knife."
And she wasn't kidding about the gnocchi. I ordered the Gnocchi alla Reggiana which is soft gnocchi pasta served with Italian sausage, fresh tomato and basil sauce (pictured below, $12.95 at lunch), and this was a real treat – the sauce had just the right amount of garlic and tomato and left me wanting more. I also really enjoyed the Insalata alla Caprese, a salad made with Tomato, Bocconcini, and capers with fresh basil (also pictured below, $8.95 at lunch). Dinner prices are slightly more than lunch, around $16.95 for a pasta.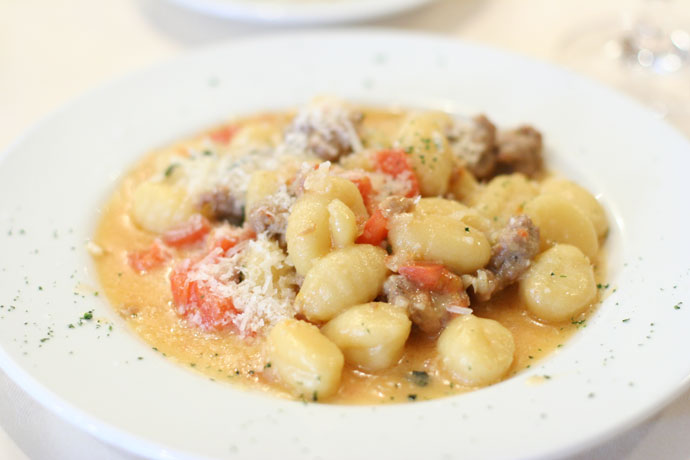 Gnocchi with Italian sausage served in a sauce made with fresh tomato, basil, and garlic.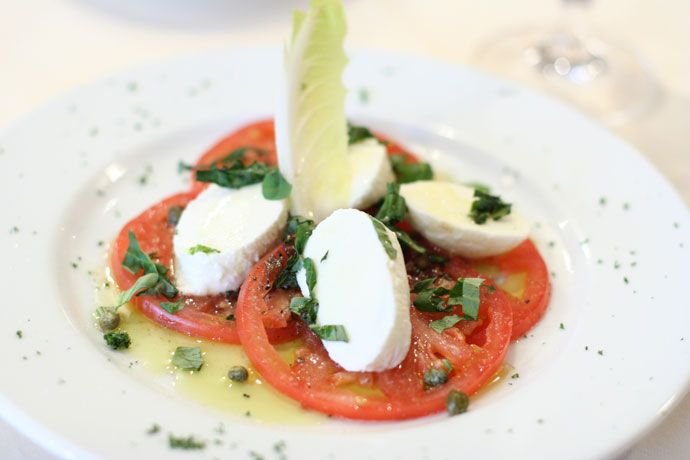 Tomato and Bocconcini salad with fresh basil. Delicious and refreshing!
32,614 views - Posted Friday, November 23rd, 2007