Nuba Restaurant (web site, 1206 Seymour St., Vancouver, BC, Canada, phone: 778-371-3266, at Davie and Seymour) is a hole-in-the-wall restaurant downtown that serves delicious Lebanese food at reasonable prices. This restaurant serves many vegan and vegetarian dishes, as well as a few selections with meat. Nuba has another downtown location at 322 West Hastings (phone: 604-688-1655).
I enjoyed the Najib's Special plate (pictured below, $9.29) which featured some wonderful crispy cauliflower served with roast potatoes, hummus, salad and pita. I could have ordered rice instead of the roast potatoes, but the potatoes were a good choice. I also had the Baklava for a sweet dessert ($2.62, not pictured).
paekakariki writes on DineHere.ca (click here to read review):
We love Nuba for healthy fast well priced food. The garden falafel is really tasty with avocado and their homemade pickle. The vegetarian appetizer plate is a great sampler of all their goodies. I love the flavour of the lentil/rice/avocado dish, the crispy cauliflower is amazing and the mushrooms are great!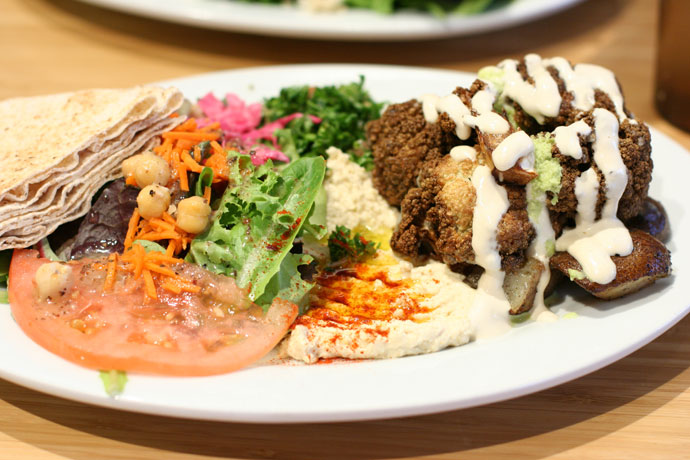 19,208 views - Posted Saturday, July 5th, 2008