Nu Restaurant (web site, 1661 Granville Street, Vancouver, BC, Canada, phone: 604-646-4668) is an award winning Vancouver waterfront restaurant with fabulous views and upscale, modern food. The style of cuisine at Nu has definite French/European influences and a west-coast twist. The decor is space-age, the atmosphere is light hearted, and the patrons are stylish!
Nu Restaurant is located right out on the water on the north/downtown side of False Creek, underneath the Granville Bridge. There is ample free parking available in a lot shared with the Stonegrill restaurant (another restaurant worth visiting which is located in the same building, one floor above Nu).
To start, I enjoyed the Pan Seared Bayne Sound Scallops, with pickled mushrooms, cauliflower puree, and red wine jus ($16.10, pictured below). The scallops were really tender and tasted great! As a main course, I tried the Roasted Cornish Game Hen with smoked local gouda, braised swiss chard, wild BC mushrooms, and rich chicken jus ($26.10, also pictured below). The serving of Game Hen was fabulous, with a really prime cut of meat and a great combination of the cheese, mushrooms, rich jus and vegetables. I finished off this fantastic meal with a Passion Fruit Sponge Cake ($7.90, pictured below) which was light and refreshing.
The restaurant also features live jazz for Sunday brunch with Juno nominee Melody Diachun. Please call the restaurant (604-646-4668) for more info about the live music, or check out their web site for their menu.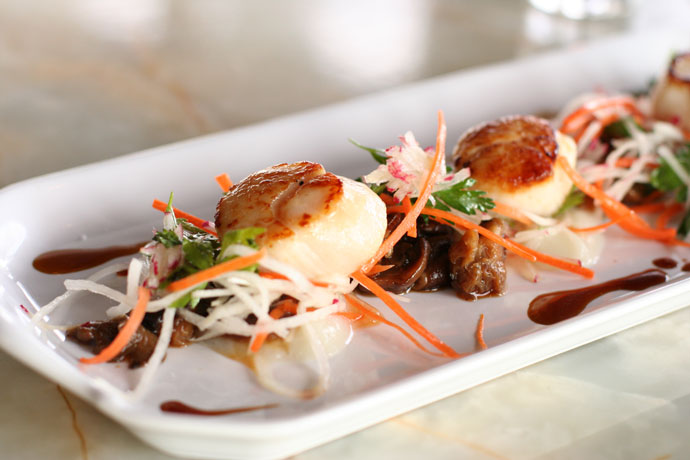 Pan Seared Bayne Sound Scallops ($16.10) at Nu Restaurant in Vancouver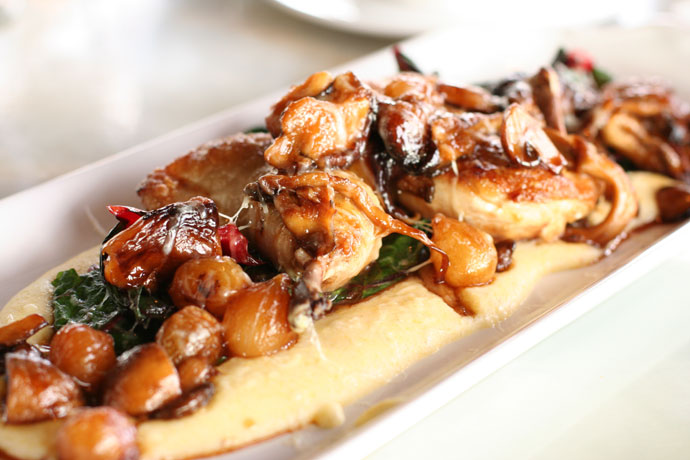 Cornish Game Hen at Nu Restaurant in Vancouver ($26.10)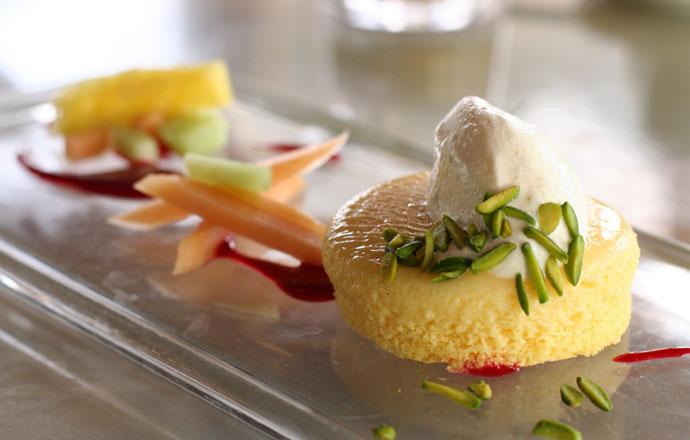 Passion Fruit Sponge Cake at Nu Restaurant in Vancouver, BC, Canada ($7.90)
22,144 views - Posted Wednesday, May 21st, 2008