Wild Ginger Restaurant (web site, 604.893.8608, 2015 – 88 West Pender Street, Vancouver, BC) is a spacious, 120 seat restaurant hidden away behind the Tinseltown Mall food court, on the second level of the mall below the movie theatres. The Asian Pacific post writes:
"Tantalizing fusion cuisine mixes local flavours with those of the Far East. Fun dishes to try include Kung Pao Power, Sticky Ribs, Mayo Mayo, and Spring Blossom Rolls."
The menu features a selection of Chinese and Korean fusion dishes, as well as cook-at-your table Korean barbecue. Visit at lunch time for the best deals: a large entree with soup and salad goes for approximately $6.99. At dinner time the average entree price is around $16.00. Pictured below is the "Happy Family" entree ($16.99), which is a tasty mix of choice seafood, meat, and vegetables stir-fried and served in a sweet ginger and garlic sauce.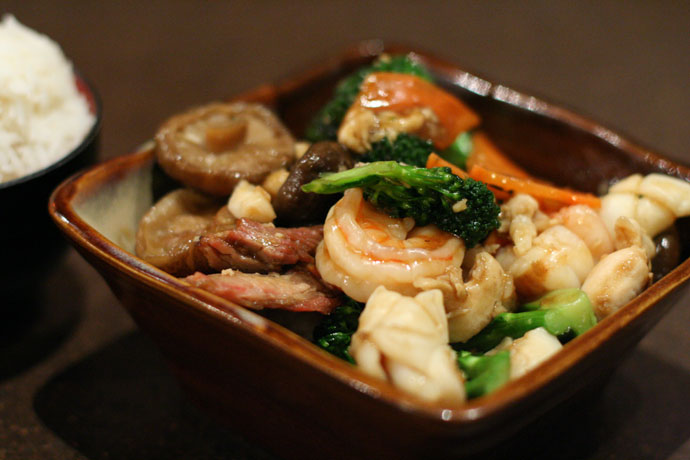 25,846 views - Posted Thursday, November 22nd, 2007